How to get Data Science job as a fresher?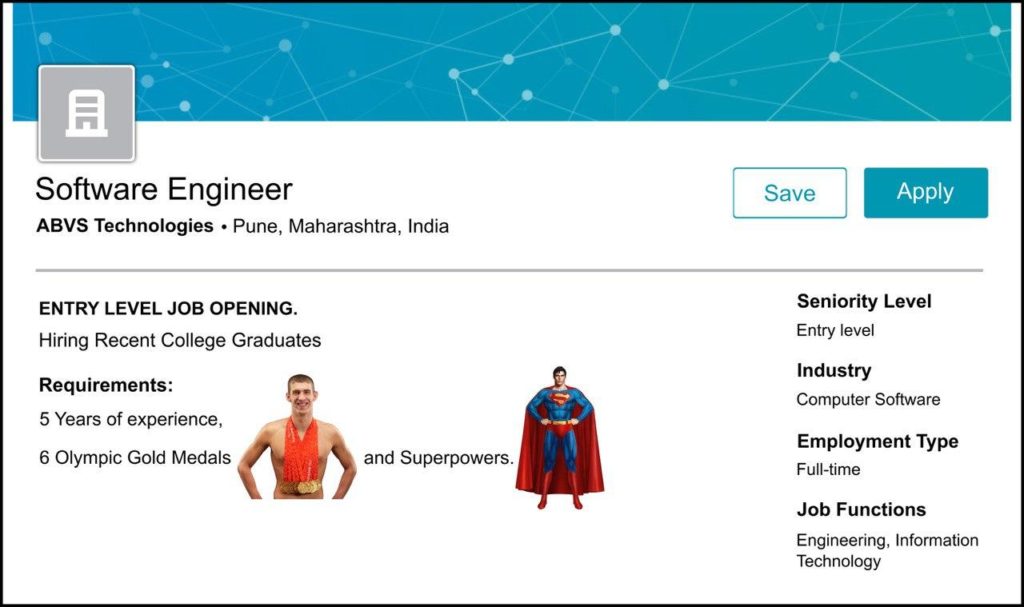 Do you sometimes wonder, how do I get experience if I need experience to get my first job?
Yes, it is completely alright if you think this way, this problem does exist. Good thing is, there is a great solution to this problem and that is by Building Projects.
If you don't have previous experience in the Data Science field, your portfolio of projects can get you a call for an interview, Projects play a crucial role in the interview phase as well.
Here are few simple things that can definitely help you to land your first job in Data Science –
Learn Python: Python is general purpose programming language, it is easy to learn and most importantly it is commonly asked in job descriptions.
Join an Online Course: Choose a course which offers hands-on experience, provide you with a broad introduction to Artificial intelligence, Machine Learning, Data Science. Start with Top-Down approach, "code first" rather than "math first" is always a good idea. Learn the core ideas in machine learning, and build your first models. Work on projects, and identify opportunities for how you can apply Data Science. Remember, you learn the most when you do things.
Explore Kaggle: Inside Kaggle you'll find all the code & data you need to do your Data Science work. Kaggle challenges are a great way to practice your data science skills and understand what cool things you can do with data science.
GitHub: Share your work with the world, Share your projects so others can use it. You can get feedback from the GitHub community which will definitely help you to improve. You are likely to be asked during a job search, "Can we see your GitHub?" by recruiters and hiring managers. Your GitHub profile could become extended version of your resume.
Use LinkedIn effectively: Manage your professional identity. Build and engage with professional network. Post project links in your projects section, build your network and let people know that you are looking for job opportunity. Most of the hiring is happening though LinkedIn these days so this will definitely create an opportunity for you.
As we all know due to COVID 19 pandemic, there is a lot of uncertainty and fear in the market and there are few things that are completely out of our control but at the same time there are few things like learning new technologies, building projects and putting them together to reach right people is in complete control of us. If you are in for working hard with great consistency and doing things which are in our complete influence, connect with us. We will be happy to help you.
We help you by assigning you a Mentor (an expert) and a friend that you could talk to. Someone who was in your shoes before, who knows the tooling and the math–someone who could guide you through this learning process and make it easy for you. Here is a complete list of things we do to help beginners.
We can assure you, Learning Data Science and building a Project Portfolio will open the door to the future you would like to live-in.
No company today has enough in-house Data Science talent. While Data Science talent is hard to find, lot of freshers who followed this path of building a project portfolio are now well placed in MNCs.
We wish you luck and look forward to connect with you.
Cheers, Team aiadventures.