What does a data analyst do?
Enter the same old line of 'How cool data science is?'. But since you are here on this blog, I am sure you are already aware of the coolness. So let's directly talk about your curiosity about the job role data analyst.
Businesses rely on data to make crucial decisions. Data also helps them in identifying their drawbacks. For this data to be generated and worked upon, Data analysts are needed. Data Analysts play a huge role in making these decisions.
Data analysts roles are in high demand. India had over 95000 vacant positions in data science in 2020, this number has increased due to the pandemic.
Keep reading further to find out everything you need to know about a data analyst.
Index
What is analytics?
What are the types of analytics?
What does a data analyst do? Key Responsibilities of a Data Analyst
Most Valuable Skills for Data Analysts
Data analyst vs Business Analysts
How much does a data analyst make in India?
How much do similar professions get paid in India?
Country-wise comparison in Data Analyst salary.
What is analytics?
Analytics is the science of analyzing data to reveal hidden meaningful patterns. These patterns are used by business leaders for effective decision making.
Basically, in analytics, you convert raw data into insights which are very important in business decisions.
Analytics relies on the application of statistics, programming and operational research to gain insights from data. It is helpful in areas which store a lot of data, for example, Healthcare, sports etc.
What are the types of analytics?
There are mainly 4 types of analytics which are used to bring insights.
Descriptive analytics is used to answer the question 'What happened?'. Basically, you'll examine what happened in the past to find insights. The past data includes monthly revenue, sales etc.
Diagnostic analytics is used to answer the question 'Why something happened?'. Here historical data can be compared against other descriptive data. This helps an organization determine the cause of a positive or negative outcome.
Predictive analytics is used to answer the question 'What is likely to happen?'. Basically, it predicts the future. You'll be using the descriptive and diagnostic analysis to predict trends.
Prescriptive analytics is used to answer the question 'What action to take now?'. Just like doctors prescribe their patients; as an analyst, you'll prescribe the actions a business should take. This type requires advanced skills, such as algorithms and machine learning.
What does a data analyst do? Key Responsibilities of a Data Analyst
On this topic, 'Alex The Analyst' has created an informative video. According to him and our own research, the following are key responsibilities of a data analyst.
Analysts help internal teams to

gather data from new sources (Mining data).

This follows by structuring the raw data to make it readable.
Analysts

use statistical tools to interpret data sets

. Interpreting data helps in identifying trends and patterns
Analysts are tasked to

create reports

for business leaders that effectively communicate trends, patterns, and predictions using relevant data.
Analysts

create dashboards

using tools such as sequel or some cloud platform. This helps the stakeholders to understand the steps of the data analysis process.

Designing and maintaining data systems and databases.

Data analysts ensure that the availability, storage, and coherence of electronically stored data meet an organization's needs.
Most Valuable Skills for Data Analysts
To become an effective data analyst a combination of technical skills and soft skills is needed.
Technical skills include knowledge of various tools and database languages. Common tools that an analyst should be skilled in include Excel(or google sheets), Tableau(or Qlik). Other skills include database languages such as SQL, R, or Python. Being skilled in mathematics and statistics is also required.
Soft skills are crucial to convey ideas, to lead teams and work cooperatively. Skills that a data analyst must possess are Communication, Teamwork, Critical Thinking, Decision Making, Accountability.
Applying for an entry role data analyst can be done just based on a bachelor's degree. But we have often observed that recruiters give you more preference if you hold a master's degree in the relevant specialization. Check out our blog Master's in Data Science: Complete guide
Data Analyst vs Business Analyst
In many companies, you'll find that these titles are used interchangeably. The difference is subtle but important since big corporations have specific tasks assigned to both the roles. Universities offer master's program in both the specializations to pursue them as a career.
Data Analyst
In simple words, the job of a data analyst is to tell stories using data. These stories help the company leaders to make an informed decision. The role of a data analyst is comparatively technical to the business analyst role.
Business Analyst
A business analyst is a strategic role and is less technical than a data analyst role. Business analysts work on the story presented by a data analyst to identify problems and propose a solution.
How much does a data analyst make in India?
For a data analyst in India, with 1 – 4 years of experience, the average pay of Rs 4,00,000 is observed. This of course varies, with the years of experience you bring under your belt. A mid-career Data Analyst with 5 – 9 years of experience can make up to Rs 600000 based on the organization. And a seasoned Data Analyst who has been in the industry for 10 – 19 years can earn an average total pay of almost Rs 9,00,000.
How much do similar professions get paid in India?
Following job roles are although in the same industry vary in their responsibilities, experience level and expertise. For an example you cannot become a data scientist right after your degree. Data Scientist is a senior role as compared to data analyst, hence it is paid more.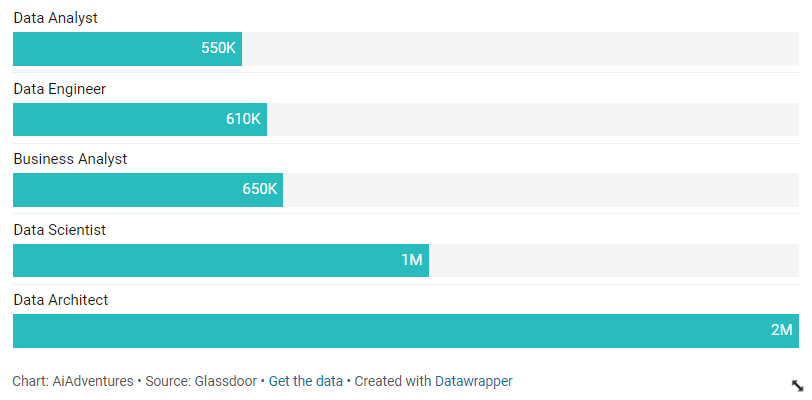 The average pay is in Rupees(INR)
Country Wise comparison in Data Analyst salary.
Job roles are paid according to Industry, Experience, Country, Size of the organization. In the following chart, you will see that data analysts are paid the least in India. Developing nations tend to have a lesser salary when compared to developed countries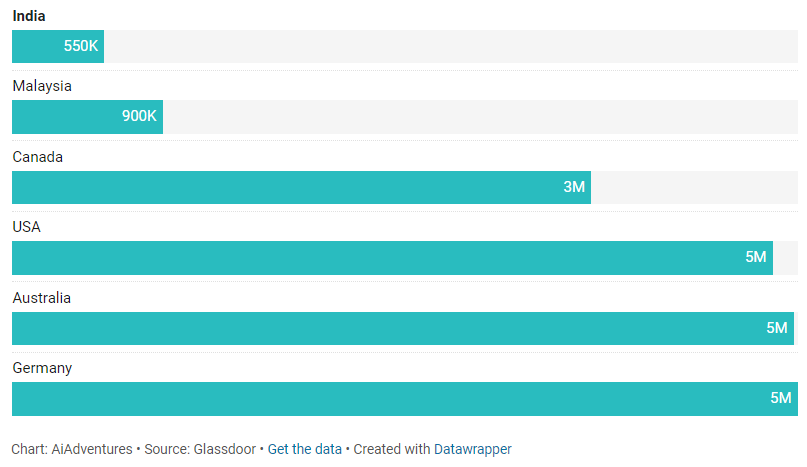 All the amounts displayed are in rupees(INR).
Final words
Now that you know what a data analyst does, what the basic qualifications are. You should focus on gaining these skills. The best way to gain skills is by getting hands-on experience. Hands-on experience means getting practical knowledge. How to do that? Find internships, work on projects, find mentors etc.
Wish you a happy learning journey:))
Who are we?
At aiadventures, we work in the field of Data Science. And provide training to aspirants.
We take great pride in our successful track record of over 1000+ students trained, few of which joined us to build their strong profile to get the best university for their Master's in Data Science. Many of our students, with the help of their fantastic profile that they built with us, have also managed to get data science job opportunities.